The use of scaffolding in the construction industry has been prominent for thousands of years. While scaffold equipment and systems have evolved over time to enhance the safety of workers, safety is still one of the biggest concerns in the industry. In Australia, the construction industry is within the top five most dangerous industries where accidents and deaths are most likely to occur. As a result, there are strict safety rules and regulations that apply to all components within the construction industry.
Furthermore, it is understood that up to two-thirds of workers in the construction industry will use scaffolding to assist them complete their jobs, indicating that scaffolding itself presents many safety risks to workers. While proper training and education is clearly the best way to understand the inherent risks in the use of scaffolding, we've decided to compile a simple list of 'do's and don'ts' to get you started.
Scaffold inspections
Do
After the scaffold has been assembled, ensure a qualified professional inspects the base of the scaffold to make sure it is properly grounded. They'll also need to check the structure itself is sound and confirm that all nuts and bolts are tightened properly. Further inspections should be performed every seven days until the scaffold is dismantled.
Don't
Never assume that the scaffold is safe to use at all times. Scaffolds can deteriorate over time with weather and heavy use, so you if you discover anything odd with the structure, notify your supervisor immediately.\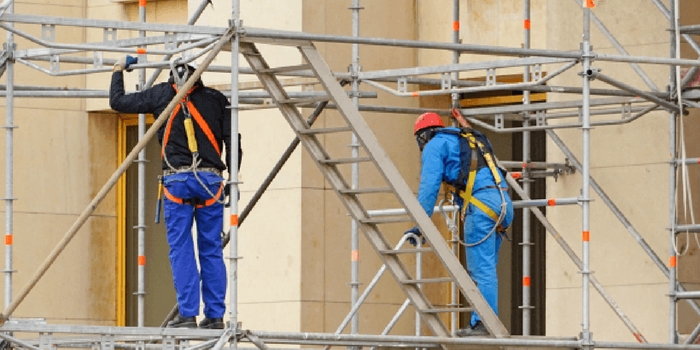 Overloading
Do
Always keep in mind the maximum load, which is the maximum weight that the scaffold structure can support. This includes both workers and equipment and materials, and the maximum load must always be respected. One of the biggest cause of accidents and injuries on scaffolding equipment is from overloading.
Don't
Never overload the scaffold structure with workers or materials and equipment. Even a couple of extra kilograms can cause the scaffold structure to collapse.
Overhead power lines
Do's
Always adhere to the safety guidelines concerning the minimum distance between scaffold structures and overhead power lines. Supervisors need to ensure that scaffold structures do not fall within this distance when moving the structure for the next phase of work. Electrocutions can take place within a few seconds.
Don't
Don't ever move a scaffold structure without first seeking your supervisor's approval. If you have any concerns with the distance to power lines, don't climb the scaffold and alert your supervisor for inspection.
Head & Foot protection
Do
Always wear the correct hard hat when working on scaffolding equipment and only remove your hard hat when you leave the construction site. Furthermore, always wear non-slip and metal capped boots which will protect you against slipping and falling objects. Typically, the construction site will notify you of which shoes will be suitable for the site.
Don't
Never run or hurry when on a construction site, including climbing a scaffold to retrieve something which you forgot. Your concentration will be lowered when rushing and you can easily slip on a wet patch.
Fall Safeguard
Do
Always wear a body harness or fall arrest system when working on scaffolding equipment and ensure that a shock-absorbing lifeline or lanyard is always connected to anchors. This equipment is designed to protect you from slips and falls which is one of the most common accidents on scaffolding, so always remain harnessed and move carefully when accessing or exiting the scaffold structure.
Don't
Never access a scaffolding structure without first double checking that your body harness is correctly positioned. Never disconnect your shock-absorbing lifeline or lanyard when working on platforms.
The construction industry has a multitude of risks that workers are inherently susceptible to, so it's extremely important that you follow all construction site rules and procedures to ensure the safety of you and those around you. If you have any further questions on scaffolding safety, get in touch with the experts at Uni-Span by phoning 1300 822 825.